Fax Over IP - The Future of Faxing
Faxing has been an integral business phone solution for businesses for decades. For years, organizations have taken advantage of the fax machine's ability to efficiently process invoices, purchase orders, contracts or other time-sensitive documents.
But the industry's long history doesn't mean faxing is an outmoded form of communication. The automated network fax solutions of today provide for better organization, major savings and greater security for document communications than ever before.
Fax automation is one of our most popular business phone solutions because it provides for enhanced communication and drastic savings.
Fax over IP (FoIP) takes advantage of the money-saving benefits of unifying communications over your internet connection. This innovative service increases productivity and enhances security with centralized, IP fax that can be delivered directly to your email.
FoIP can help cut costs by eliminating long distance charges, costs associated with maintenance and support, and costs associated with paper (like ink, toner, paper and equipment).
Fax automation can provide the following features:
By eliminating manual processes (like manually faxing, printing or mailing documents) you'll maximize employee resources while cutting costs. Our advanced systems easily integrate with your existing business applications to [make] your business phone systems to be as efficient as possible.
Our fax automation services provide reliable, untended electronic receipt and delivery of critical documents. Additionally, our automated service makes it easier to safeguard information security and support accurate records-keeping.
Between reduced or eliminated long-distance telephone charges, elimination of paper-based expenses and improved employee productivity, our fax automation services can drastically reduce fax document delivery costs while streamlining communications.
Our fax automation services provide for the consolidation of your entire organization's fax communication to a centralized fax server, replacing your operations multiple stand-alone fax machines. Fax automation is how 2020 does faxing.
When you consolidate your fax services to a hosted phone system, you allow for fast and streamlined troubleshooting from our advanced support team.
Our fax automation services automate the exchange of business documents with clients, colleagues and suppliers to reduce costs streamline overall business processes by speeding up document communication and allowing for more accurate record-keeping. Inteligy's flexible fax automation service easily integrates with email systems and business application that you need to run your business.
Grandstream Analog Adapter
Designed for users looking to connect their analog wwwices to a VoIP network at home or in the office. The HT812 is a powerful analog telephone adapter that is easily deployable and manageable. It comes equipped with 2 FXS ports and an integrated Gigabit NAT router.
The HT812 delivers powerful VoIP technology and routing capabilities to home and office environments, and allows users to successfully connect their analog wwwices to a manageable and powerful VoIP network. Built using Grandstream's market-leading SIP ATA/gateway technology, with millions of units successfully deployed worldwide, this powerful ATA features exceptional voice quality in various applications and environments. The HT812 comes with 2 easy-to-use FXS ports, an integrated Gigabit NAT router, state-of-the-art encryption with a unique security certificate per unit, automated provisioning for volume deployment and wwwice management and outstanding network performance.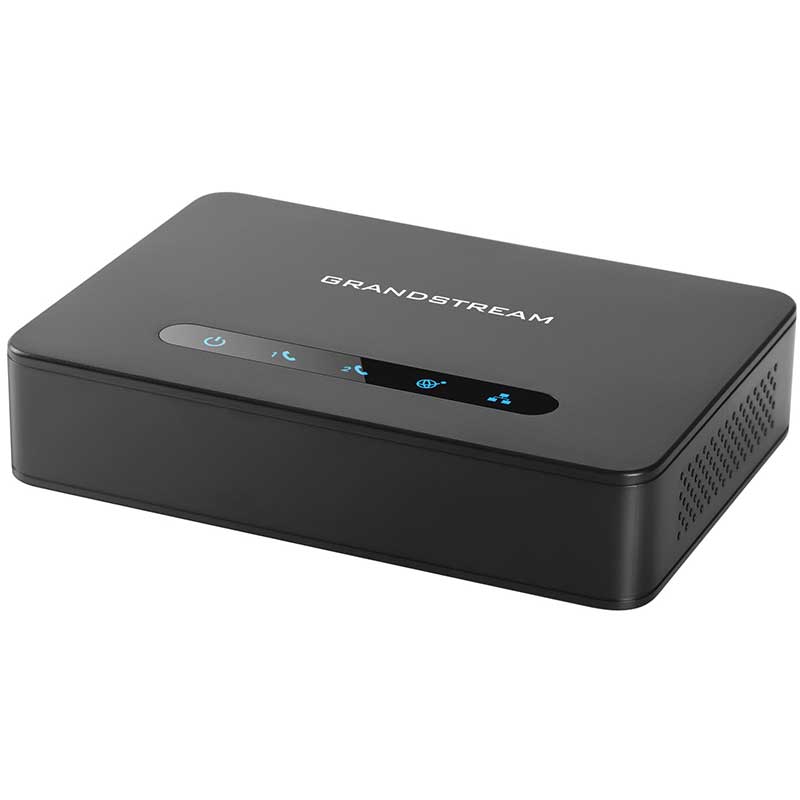 Supports 2 SIP profiles through 2 FXS ports and dual Gigabit ports
Includes a built-in NAT router which can handle routing speeds up to 100MBps
TLS and SRTP security encryption technology to protect calls and accounts
Automated provisioning options include TR-069 and XML config files
Supports 3-way voice conferencing
Failover SIP server automatically switches to secondary server if main server loses connection
Supports T.38 Fax for creating Fax-over-IP
Supports a wide range of caller ID formats
Use with Grandstream's UCM series of IP PBXs for Zero Configuration provisioning
Use the FaxFinder Client to send faxes through the FaxFinder Fax Server. You can send faxes directly from your computer, through the client or through applications such as Microsoft Word or Outlook.
Broadband Speed Test
Test your upload and download speed
Contact Us
Ready to get started? Get in touch with us.